Become A Certified AggFlow Consultant
BedRock Software is actively looking for aggregate and mining equipment dealers, engineers, consultants, and other professionals who are interested in becoming certified as AggFlow Consultants. If you are a seasoned AggFlow user, and have knowledge or experience in production and the operation of aggregates facilities, you can become a valuable resource to aggregate producers and earn extra income as an AggFlow Consultant.
Certified AggFlow Consultants provide fee-based modeling, training and ongoing support for AggFlow software products, including the NEW AggFlow Manage with Production Scheduler.
First Steps
As a prospective AggFlow Consultant, you must begin the certification process by successfully completing our AggFlow Design and AggFlow Manage Certification tests.
With successful completion of these tests, you then will meet with one of our AggFlow staff trainers for one-on-one training time. Next, you will create a sample project model. The final test will be a face-to-face examination from one of our trainers.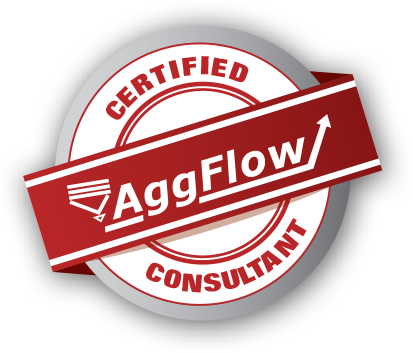 Requirements:
Prior certification in AggFlow Design and AggFlow Manage
One-on-one training with an AggFlow staff trainer
Sample project model
Face-to-face test
Want to learn more? Contact us